Carpet Steam Cleaning Services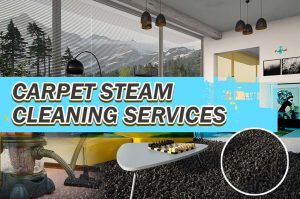 Carpet is the most popular flooring choice for many households. It is soft and comfortable to stand on. Moreover, it adds a certain kind of warmth. However, it does require some maintenance. Keeping your carpet clean is the primary way to prolong its quality. And if you want to ensure it plays a long-lasting part of your home, then it's time to consider carpet steam cleaning service.

But have you ever tried cleaning the carpet all by yourself? If so, then you already know how difficult it can be. And there will be some possible problems that might arise as well. No matter how good your intention is in keeping your carpet anew, without proper knowledge and skills you'll just be wasting your time. And as a result, it'll just make your carpet look dirtier than ever, soggy and worse of all having a foul mouldy smell. Leave the carpet cleaning to the professionals!
How does professional carpet steam cleaning works?
Carpet steam cleaning or hot water extraction cleaning works by infusing the carpet with hot water under high pressure and extracting the water out. Water extraction extracts dirt and soil along with the water which cleans the carpet. This kind of carpet cleaning is still considered by many home and business owners. In fact, this method is mostly recommended by carpet manufacturers.

With the use of appropriate cleaning agents, an effective steam cleaner will pre-treat stains using a pre-spray to remove and break apart surface tension in the carpet. Thus, allowing the water to penetrate deeply into the carpet before extraction. Furthermore, it is an effective way of carpet cleaning that is exceptionally expert at removing suspended soils that have remained tangled in the fibres.

You can achieve perfect results if the technician uses effective cleaning pre-sprays and ensures to extract as much water as possible from the carpet. Here in Maid in Perth, our professional technician uses the latest powerful steam cleaner. With proper training and years of experience, we guarantee to deliver you a quality carpet steam cleaning services. However, drying the carpet up may take some time before it dries up, but worry not! Your long wait won't turn to waste with our right service.
Why Choose Maid in Perth?
We are the best cleaning company in Perth with dedicated, fully insured and trained professional cleaners who take pride in our work. Aside from carpet steam cleaning, we also offer home cleaning, apartment cleaning, move in and move out cleaning, after party cleaning, vacate cleaning, window cleaning, commercial cleaning, oven, fridge, and deep cleaning and grout cleaning.

book my appointment